The steps to follow to unlink the license from the current computer in order to re-use the license on another PC:
Have the application updated to the latest version, if it is not updated to the latest version will have to download the latest version available and install on top of the current version (no need to uninstall the program previously). Link to download the latest version: https://server.zkteco.eu/ddfa/installer-zktime-smallbusiness.exe
IT IS IMPORTANT WHEN INSTALLING THIS LATEST VERSION ENABLE THE OPTION "Check online if new versions are available" to install the latest version.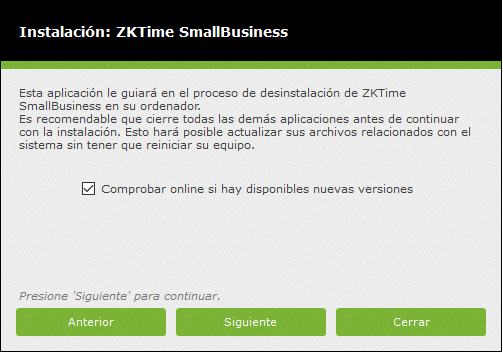 Once the software has been updated, go to the address C:\WindowsWOW64 where you will find ZKUninstaller.exe (run).
The "Uninstallation Guide" will open where you have to select the language and after clicking next, select the software to uninstall.
After a few more windows the uninstallation will be finished.
If when trying to install the license on another computer, it appears that the license is in use, run the uninstaller again as described above.
In this case, a new option will appear in which you will have to enter the license associated to the computer.


If none of these options work, please send us an email to sat@visiotechsecurity.com
Keep in mind that the license is associated with an ID corresponding to the hardware of the computer, so it is sensitive to changes in hardware or operating system.