Easyclocking terminals work in client mode, they always need a software with some users under license for its correct operation and they are online devices. Therefore, it is necessary to purchase at least one user license for each installation.
Free license promotions are valid until February 17, 2020. From this date all licenses must be paid.
The customer who buys a product from Easyclocking has to contact eusupport@easyclocking.com and provide you with the following installer information:
Device ID (found on the tag) if purchased, as it is not required
Number of users (multiples of 10 users):
Personal data of the Visiotech customer (who is billed for the licenses):
Name
Surname
Email (In case of distributors, they can use the email of their installers)
Company name
Address
City
Phone
Zip Code
Autonomous region
Country
To request extensions to the number of users of the licenses, you must write an email to eusupport@easyclocking.com and provide you with the following installer information:
License ID (Entry ID for the Easyclocking platform)
Number of users to be added (multiples of 10 users):
Such license extensions are exempt from promotions and a commercial order will have to be placed to proceed with their activation. For example: if you order 40 licenses (free subject to promotion) and then request a pack of 10 additional licenses, these last 10 will be charged without applying any promotion.
Afterwards, you will receive an email with the license administrator's data (user, admin) and you must enter the following page: https://easyclocking.net/.
Once inside, you will have to assign the terminal, for this purpose:

Here it will be necessary to enter the terminal's serial number (see label), name and location that we have created previously (the location will set the time of the terminal in a few minutes).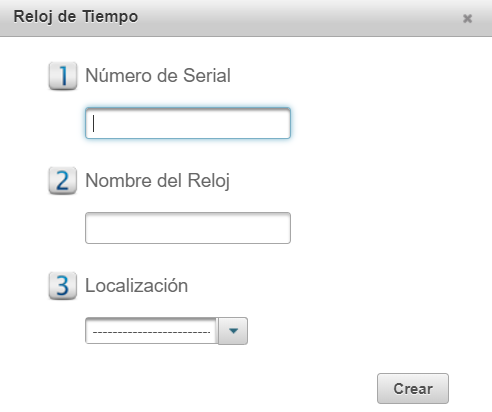 With this, you can finally enjoy the device in the cloud Easyclocking.