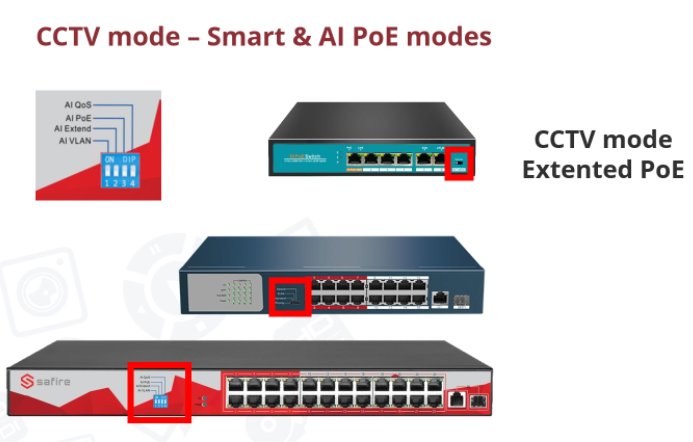 Las funciones inteligentes que incluyen algunos switches propuestos en nuestro catalogo suelen ser las siguientes:
1) VLAN
2) QoS
3) PoE Extension
4) Watchdog
5) Soft Protected Power On
Often these functions have to be activated via a DIP switch on the device case. However, here is a brief guide to what each function does.
1) VLAN function: isolates the devices connected to port X of the switch into their own local network related to the same port X, so the devices connected to the other ports Y,Z,W... cannot see the devices connected to port X
More information about VLAN: Vlan Mode on unmanaged switches
2) QoS function: acronym for Quality Of Service, it means that the switch prioritizes the video stream by dedicating more bandwidth to it when network conditions become critical or unstable
3) PoE Extension function: bandwidth reduction typically from 100 to 10 Mbps to allow the transmission of information up to longer distances, 250 or 700 meters depending on the brand
4) Watchdog function: the switch monitors if network activity disappears for an excessive amount of time on any of the PoE ports and cuts the power supply to that port and re-enables it to force a reboot of the powered camera connected there.
5) Progressive Protected Power On: The switch takes care of gradually powering up the cameras (i.e., powering each channel milliseconds apart after a global power outage), to avoid a simultaneous peak demand since each camera typically requests more input power at startup.
On some switch models, VLAN and Extension are enabled simultaneously. In others, these functions are activated independently and cannot be activated at the same time.