EZCloud is Uniview's free cloud service. Visiotech recommends linking any device from its first use.
Some of the advantages offered by EZCloud are:
Instant password recovery in case of loss.
Access to the full configuration of the device from anywhere without having to open ports or perform any configuration on the network.
Access via EZStation software and EZView app from anywhere.
Ability to share devices to other users with custom permissions in 2 easy steps ("Share devices to other users via P2P")
Here's how to link a device to an EZCloud account If you do not have an account, go to"https://eu.ezcloud.uniview.com/login" to sign up.
In the device's web configuration, Network > EZCloud.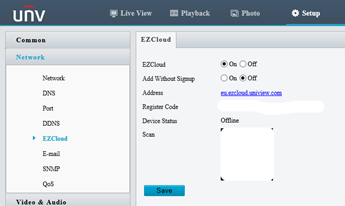 Enable "EZCloud".
"Add Without Signup" will be enabled in case you want to add yourself to the EZView app without using an EZCloud account.
Copy the registration code or "Register Code".
Through a web browser:
Device Management > Add. Paste the copied code into the "Register Code" field and assign the name you want to give the device.

Using the EZView app:
Devices > Add > Scan > Icon bottom left corner > Paste Registration Code