To reset this terminal to factory status we will have to perform the steps explained in this guide.
IMPORTANT: This reset only returns to factory status the IP address of the equipment (192.168.1.201), so we can add it again to the software to perform the complete factory reset.
The tamper is a small metal magnet that fits on the back of the terminal when mounting the wallmount (black metal plate)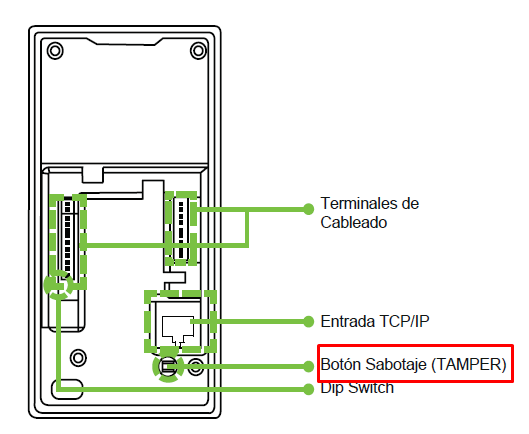 We have to start the terminal with the magnet over the hole where it fits when it is attached to the appendix that has the wallmount.
When the voice begins to welcome us, we remove it, and we will hear a "click" (it is the alarm relay to send the notification that "the terminal has been removed from the wall").
At this point we start a count of 35-40 seconds mentally or with the help of a clock. Meanwhile, the voice of the terminal will suggest us to enroll new users if the device is new, and it will continue to sound.
After 35-40 seconds, put and remove the magnet three times over the hole (each time a "beep" should sound). If the "beep" doesn't sound, we don't have to worry, we keep trying. Sometimes, since the count is made with capacitor charges and discharges, maybe it is 42 seconds, but it will end up ringing;
after the 3 "beeps", we restart the power and the terminal will be at IP 192.168.1.201. However (as we indicated at the beginning) this does not indicate that the users have been deleted. We have simply reset the IP address, to find the device again on the network and to be able to operate from the software with it.