For both cameras and video recorders that connect to the cloud via P2P service, the ports they use for connection are:

If the connection is to be made via P2P and, due to network security via firewall, etc., the following must be taken into account:
The connections are routed to different domains and their ports:
dev.eu.guardingvision.com - 8555
dev.guardingvision.com - 8555
litedev.eu.guardingvision.com - 8666
litedev.guardingvision.com - 8666
On the other hand, the cloud ports are: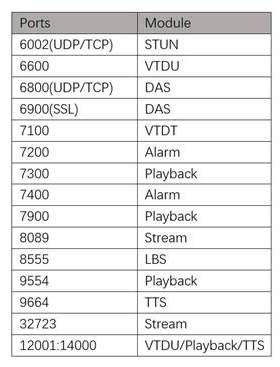 The operation of the tunnels for connecting the applications to the devices via the P2P server is determined by whether the tunnel is successfully created or not:
If the tunnel is successfully created, the application will obtain the transmission directly from the device. That is to say, it creates the tunnel and, once it has been created, it "drops" it, leaving the connection independently of the server. If a test is carried out to see which address has connected to the equipment, the IP of the APP or the device that has made the connection will appear.
If the tunnel is not successful, usually due to poor speed, the application will request the transmission from the relay server and the server will get the transmission from the device, the tunnel will be kept open through the device. When testing the address connected to the device, the Safire server will be shown.
We cannot control the creation of the tunnels, the network can influence the process.