BARRIER SYNCHRONIZATION IBS-SH-50-8TD
IMPORTANT: Always align receiver with transmitter. For example: we have two barriers, the receiver of barrier 1 must be aligned with the transmitter of barrier 2
The most important thing between the barriers is to make sure that they are off; to do this we will press the power button 3 times in a row (the receiver button of one barrier and the transmitter button of the other). Here we will find 2 possible events:
Continuous sound of several seconds. THE BARRIER HAS BEEN TURNED OFF
The barrier beeps 3 to 6 times. THE BARRIER HAS TURNED ON
Once we confirm that the two barriers are off, we proceed to turn them on. To do this, press the button between 3 and 6 times in each one of them (the same number in both).
For example: the barriers are off, we press the button on each of them 4 times, at that moment they beep about 6 times each, so they will be on and linked.
SYNCHRONIZATION BETWEEN BARRIERS AND RECEIVER
We turn on all equipment, both barriers and receivers
In the receiver we raise the DIP of the zone where we want to add our barriers (in the case of the example the zone 1), the led of that zone will remain fixed and the receiver will remain in synchronization mode: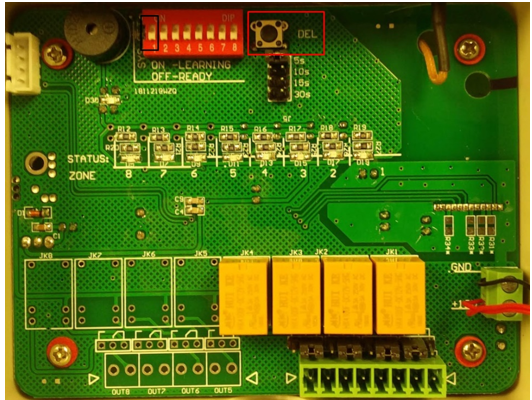 Once the receiver is in synchronization mode, we only have to separate the two barriers to produce the alarm signal. This will cause the led D30 to start blinking continuously, which indicates that the addition has been done correctly: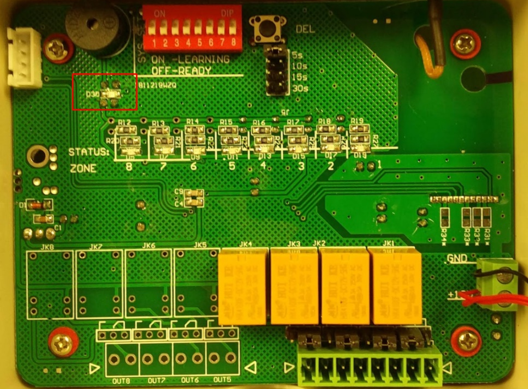 We put the DIP back to OFF and the addition process is finished
To decide whether the relay output of the zones is NO or NC, we have some jumpers. If they are in the right position, the output will be NC and if they are on the left, the output will be NO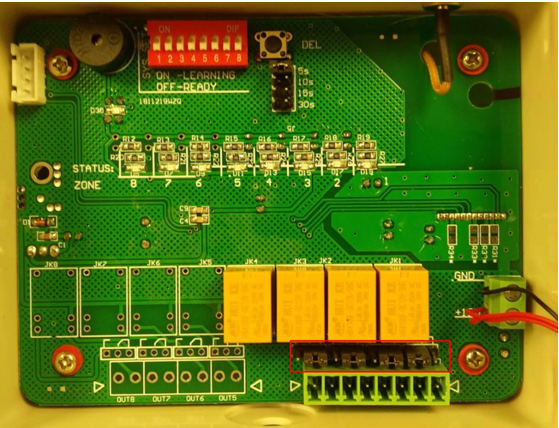 Finally, the jumpers we have with 5s, 10s, etc indications regulate the time the relay remains activated when the barriers are separated